6 Key Steps For A Viral Marketing Campaign
Thursday 19th August 2021: Let me take you in a time machine back to 2014 when the ALS Ice Bucket Challenge was all the rave, from Mark Zuckerberg to Cristiano Ronaldo drenching themselves in water.
But... how exactly did it become so big? You might say because it was for a good cause, but similar campaigns happened all year round, yet this one leapt out to the world.
The reason behind this was due to viral marketing.
1. Choosing The Right Platform
Quality over quantity plays a huge role when it comes to choosing the right channels. You don't need to be present on all platforms to go viral. Instead, go small where you can utilise the platforms to their utmost potential without any restraints.
It also depends where your audience is present. If you're aiming for more mature, older audiences Facebook and Twitter would be suitable, whereas if you're seeking out millennials and younger demographics, Instagram and TikTok would be better.
Posting at the right time is also crucial in accelerating your campaign's visibility, this way, you can receive the maximum views. Search through existing data or carry out your own surveys to find out your target audience's habits and lifestyle.
2. Advertising
One way to increase your campaign's reach is by advertising on social media. Social networks are great for attracting large audiences and reaching wider audiences, so they're an excellent choice if you want to go viral!
With the new digital era, you can achieve pinpoint accuracy in getting your campaign in front of potential customers who would typically be unreachable with traditional media. This increases your chance for higher engagement and sales.
Pom'Potes wanted to stand out in the crowded space of healthy snacks. In order to achieve this goal, they ran 3 video ads on Twitter that resonated with teen interests by using teens and school settings as a common ground for conversation and bonding. This prompted people to engage and use their unique hashtag #SnackEnScred, to make the topic trending.
A huge reason for their success was with the help of Twitter's age targeting and location tools, as they were able to aim their ads to their customer base accurately. Their videos were viewed 30 million times in total.
Avouer à ses proches qu'ils sont trop bruyants quand ils mangent, ce n'est pas facile.
Tweet #SnackEnScred avec le message que tu souhaites adresser à ton proche bruyant et on t'envoie de l'aide ! 🤫 🍏 pic.twitter.com/R16NphZCNy

— Pompotes_France (@Pompotes_Fr) November 2, 2020
3. Incentives
One of the best ways to grow your following is by using incentives to encourage people to participate with a reward that benefits both parties.
You could choose giveaways with the prize being your product or an item causing the latest buzz with people itching to get their hands on e.g. latest iPhone.
We understand not everyone can afford to give away such an expensive item hence discounts could be preferable.
The key to making incentives effective is to get the audience to engage by asking them to share your page on social media or with a certain number of friends. A personalised hashtag can also be the cherry on top to get your campaign buzzing, this way you're achieving the most potential from them.
Coconut bowls, which focuses on sustainability by recreating coconut shells into household products, wanted to attract women between 25-44 who were interested in healthy lifestyles.
Their main aim was to increase awareness, sales, email signups as well as user-generated content. So they chose to give away a blender along with over $200 worth of their coconut bowls. Not only that, they offered 20% discounts on their bestselling bowls and would reward people points who would reshare or upload their own content using their products.
The campaign produced 41K email signups, an 18% increase in sales, 37,703 new followers, and 59K social engagements.
4. Influencer Marketing
Collaborating with influencers is a great way to get your campaign takeoff. They have the following and target audience you may be looking for to give you the exposure you need to go viral!
Influencers come in different shapes and sizes, who are mainly categorised into four groups; mega, macro, micro and nano. It's best to delve into their differences to find out which is best compatible with your campaign to drive results.
An example we can learn from is by Warby Parker, an eyewear company that built a campaign of 7 micro-influencers, who had a fair amount of followers on both, Instagram and Youtube.
The aim? Boost Instagram engagement and product awareness.
They specifically picked influencers who were already fans of the brand, as they would be more enthusiastic to promote them organically.
Warby's influencers consisted of a diverse set of creative people, from artists to bakers. This helped promote their brand in a genuine way by asking the influencers to post content of what they usually do whilst flaunting the glasses or merging their skills to promote the brand. They also partook in the hashtag created for them, #WearingWarby.
They succeeded with a spike of 3.4% in engagement rate, 55,000 likes and 640 comments in total.
If you want to start your influencer marketing journey, don't waste crucial time by hunting manually, so begin with tools made for the job.
You can find influencers tailored to your niche and goals through Majestic Monitor. You can dig deep to find out their authenticity, reliability, top tweets and more.
5. Clear Copy & Call-To-Action
From your Tweets to your reels you should ensure your copy is top-notch, if not you could potentially lose your credibility and customers in moments. The truth is people skim social media so if your copy takes more than 5 seconds to read...well expect people to skip away.
To ensure your audience is hooked into your copy is by the 3C's in mind, clear, concise and compelling.
Your copy should be simple and free from jargon. The last thing I'd expect to come across on social media is sentences like "Immediately purchase our final three items". It should be conversational and NOT in bulk. Keep the space breathable. Here's a good example from Majestic.
Majestic Ambassador Bill Hartzer (@bhartzer) will join @InseevTweets to talk about using the Majestic Link Graph tool to improve your #SEO strategy!

Sign up for this free webinar on August 17th https://t.co/3uW0iC9HgM pic.twitter.com/pLFr56z3O1

— Majestic (@Majestic) August 2, 2021
Really want to connect with your audience? Make it relatable. It personalizes your message to the viewer and makes you stand out.
Entice them with keywords to appeal to their needs. Let's look at Nike, they've used keywords like "saving" and " 10% student discount" (repeated on their top banner as well) to persuade students to purchase.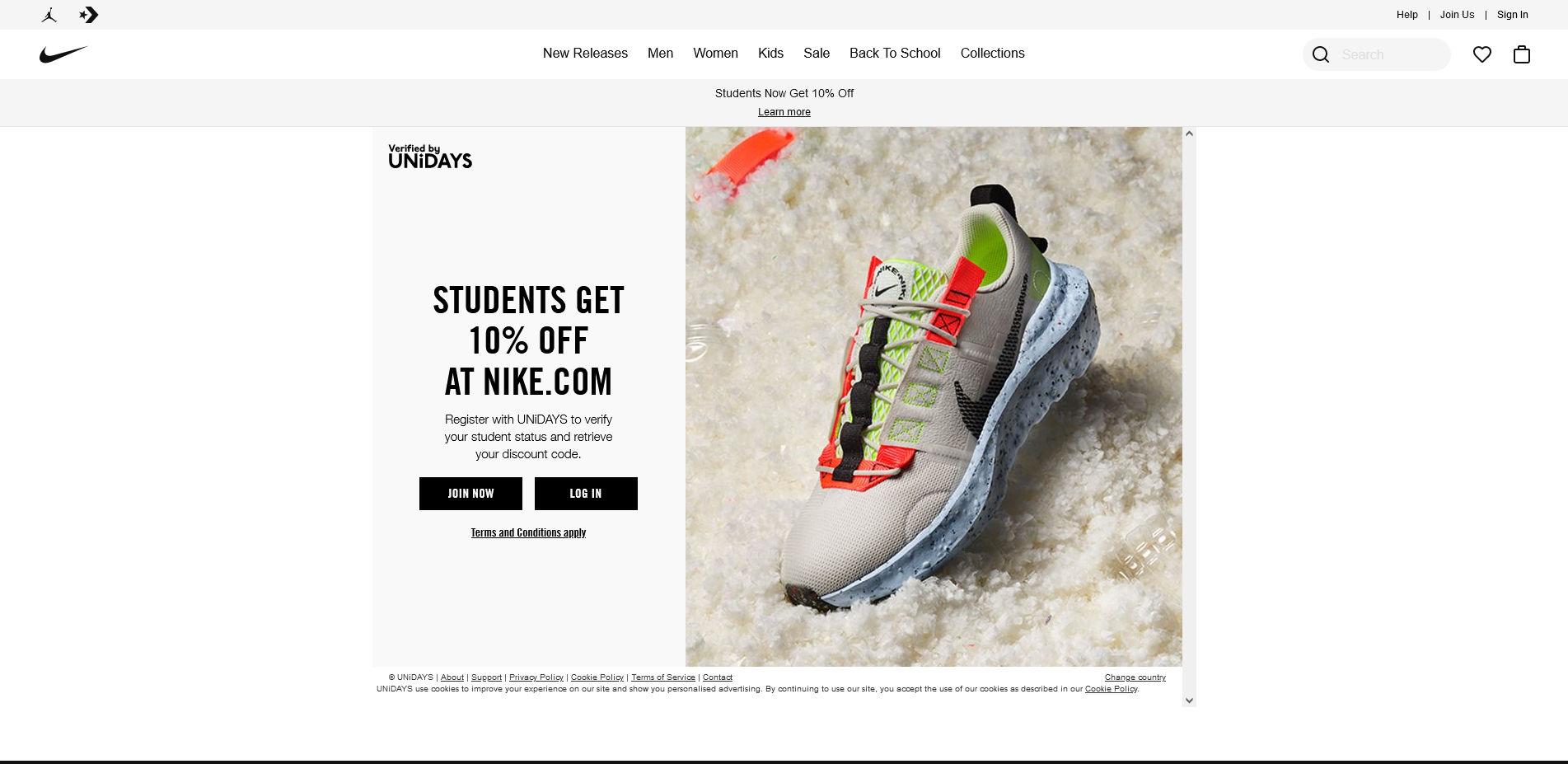 Your call to action (CTA) should be fairly clear and simple too, but gripping. Having many CTA's also can be confusing and time-consuming to the viewer, so it's best to keep it no more than 3.
6. Emotional Marketing
If you want to ring in peoples heads, then stir some emotion. You can make it positive and humourous like the ALS Ice Bucket Challenge or deeply touching like Dove's Real Beauty Campaign. Either way, you need to drive people to take action.
Nike's "Dream Crazy" campaign showcased backstories of various people who made history. The powerful storytelling ignited inspiration, with features of tennis star Serena Williams to 10-year old wrestler Isaiah Bird, who was born without legs. The entire theme of the video reflects Nike's "Just Do It" slogan.
The campaign was narrated by Colin Kaepernick, who kneeled during the National Anthem at an NFL game in 2016, which was met with backlash from all sides, but Nike refused to be silenced, showing how committed they are when taking stances on social issues.
We hope this blog has been helpful. Tweet us which one was your favourite. If you'd like to know more about how Majestic Monitor can help find you the right influencers, Contact Us.
If you are interested in more insights like this, then please sign up in the box to the right and we'll let you know!