Wednesday 5th May 2021: The influencer marketing industry has boomed in business through recent years. With Influencer Marketing Hub having found the industry set to be worth $13.8 billion in 2021, it's no wonder why it's a robust channel and has marked its place as one of the top ways of marketing.
So, what does this mean for you?
To put it simply, if you want a shortcut to reach out to your target audience, influencer marketing is the way forward. Up to 80% of consumers say they make a purchase decision based on an influencer's recommendation according to Rakuten Advertising.
So, where do you start?
There's a few things you need to know before diving right in such as, how to find your audience, the different types of influencers and campaigns to choose from, and the right tools to measure your progress.
Don't worry about knowing too much just yet, as we're going to break it all down so read on!
What's Influencer Marketing?
If you're just getting started, you might be wondering, what is Influencer Marketing?
Well, the rise of apps like Instagram and Twitter also brought an influx of influencers. Influencers have the power to impact the opinions and decisions of their followers because of their authority and relationship with their audience.
And brands noticed their potential, so they began taking advantage of it by collaborating with them to take leverage of their audience.
The type of marketing depends mainly on the brand's request. Whether it's getting an increase of product/service purchases or brand awareness, an influencer can help through video promotions, social media posts and participation in hashtags. This creates a buzz with follow up conversations.
There are four main types of influencers. Check out the infographic below to see how they vary.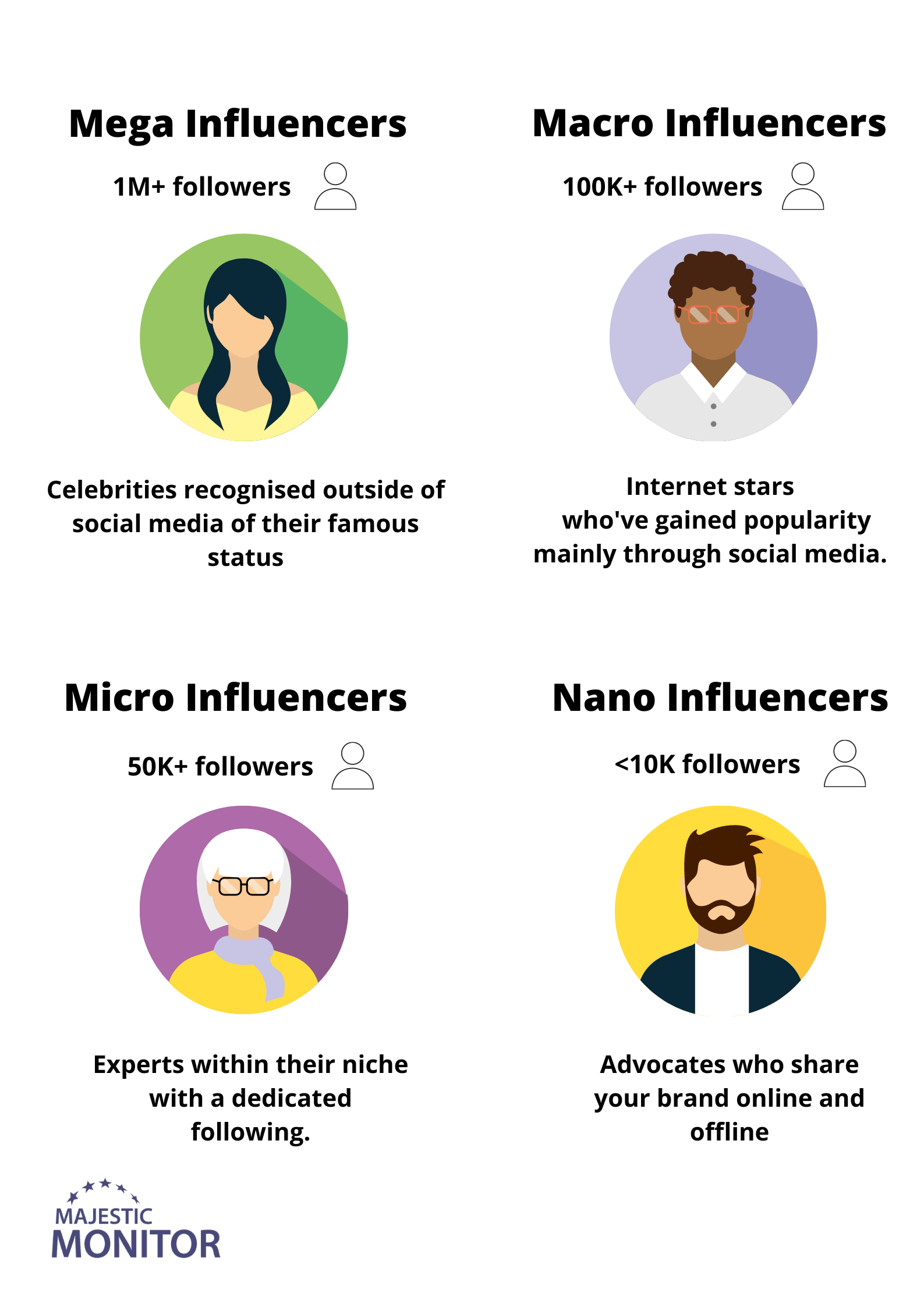 Kaya Ismail from CMSWiRE talks about them in detail. Mega influencers, with their vast following, seem enticing to partner up with, but their audience is so diverse, which can make them not be truly interested in your brand and they're pretty expensive.
Macro influencers consist of people who've grown to fame through the web. They can range from vloggers to entertainers. Macro Influencers have a balance of a mass following and audience that fit into their niche.
As they've gained popularity over time, they have a more personalised and better understanding of their audience.
On the other hand, a Micro or Nano influencer has a more modest following. They possess a more targeted audience, interested in their niche, which they tend to specialise in, hence boosting their credibility and trust.
In Fact, a study from Influencer Intelligence found Nano influencers to be the highest in demand, with businesses stating they boosted their engagement rates by 69%. Due to their smaller following, they may be more cost-effective and keen to market your brand across their social platforms.
So focus on value instead of numbers.
What are your goals?
What do you want to gain by the end of your campaign? To raise brand awareness? Increase sales? Or build an audience?
You need to set these goals to identify what you want to achieve by the end to help you choose the most suitable influencer for the job.
Not only does having well-defined goals aid in strategising a plan more clearly, but it allows you to also observe the correct type of Key Performance Indicators (KPIs) and measure your Return Of Investment (ROI) effectively.
If you aren't familiar with KPI, it's basically a metric used to assess your objectives and oversee the progress.
Who's Your Target Audience?
To hunt down the right influencers, you must first recognise who your target audience actually is.
Look at what you're offering. Who'll be most interested in buying it?
For instance, if you want to sell tents, people aged 25-35-year-olds who engage in outdoor activities seem like a good demographic to cater to.
You'll need to dig a little deeper to find out their needs and interests.
A buyer persona is a great way of building a profile of your ideal customer.
It should highlight their demographic, habits and pain points to help you gain an understanding of their perspective and decision-making process.
Rand Fishkin from Sparktoro includes some noteworthy points of what a persona should contain:
The information your team/client needs to effectively do their job
Details about that information's source and accuracy
Enough breadth to represent the range of individuals covered by the persona
Segmentation of those personas only when there's a relevant need to target, build-for, or market-to individuals in those groups differently
You can also use these four questions by Dale Davies to look for the answers in your research:
1. How old is your target customer?
The age of your target customer will also depend on the platform you select. Sprout Social found younger age groups are more present on TikTok and Instagram, whilst mature age groups are more prominent on Twitter and Facebook.
2. Where do they live?
Knowing where your customers live is vital because this will help you choose the right influencer. It will be more targeted and will have a higher reach.
3. Where do they spend most of their time?
Which platform do they spend most of their time on?
It's worth knowing to then find out the peak timings of when they're online, surfing through social media. Those would be the best timings to schedule your ads and posts to increase your chances of visibility.
4. How do you promote your brand, product or service to those individuals?
Is your target audience impulse decision-makers or more reliant on their intuition? Figuring out which one of the two will determine the type of campaign strategy you'll plan out, as well as the number of influencers to take on.
For emotional decision-makers, reviews and giveaways could be effective, whereas the latter need more convincing, so brand ambassadors or using multiple influencers marketing your business over some time can have a higher impact on conversions.
These questions should lead you to find common themes between them to create your consumer's accurate persona.
But you may ask: where do I even find the information about my audience to even create one?
Here are a few ways:
Look into your competitors to see who they're targeting and what kind of people are engaging with them. This can give a clue to your audience's demographic. Hashtags related to your field can also lead you to your target audience as well.
Use Google Analytics to identify your existing audience's region and devices they use to access your site. It also segments your users' by age and gender.
Interview your existing customers by querying questions that bring value such as, what social platforms they use most often, what influencers they look up to the most and their biggest challenges. It's also great to receive any feedback from them for areas to improve.
What type of Influencer Campaign do you want to run?
Now that you know your target audience and goals let's go through the types of Influencer Campaigns. The infographic below shows eight different ways you can market your brand.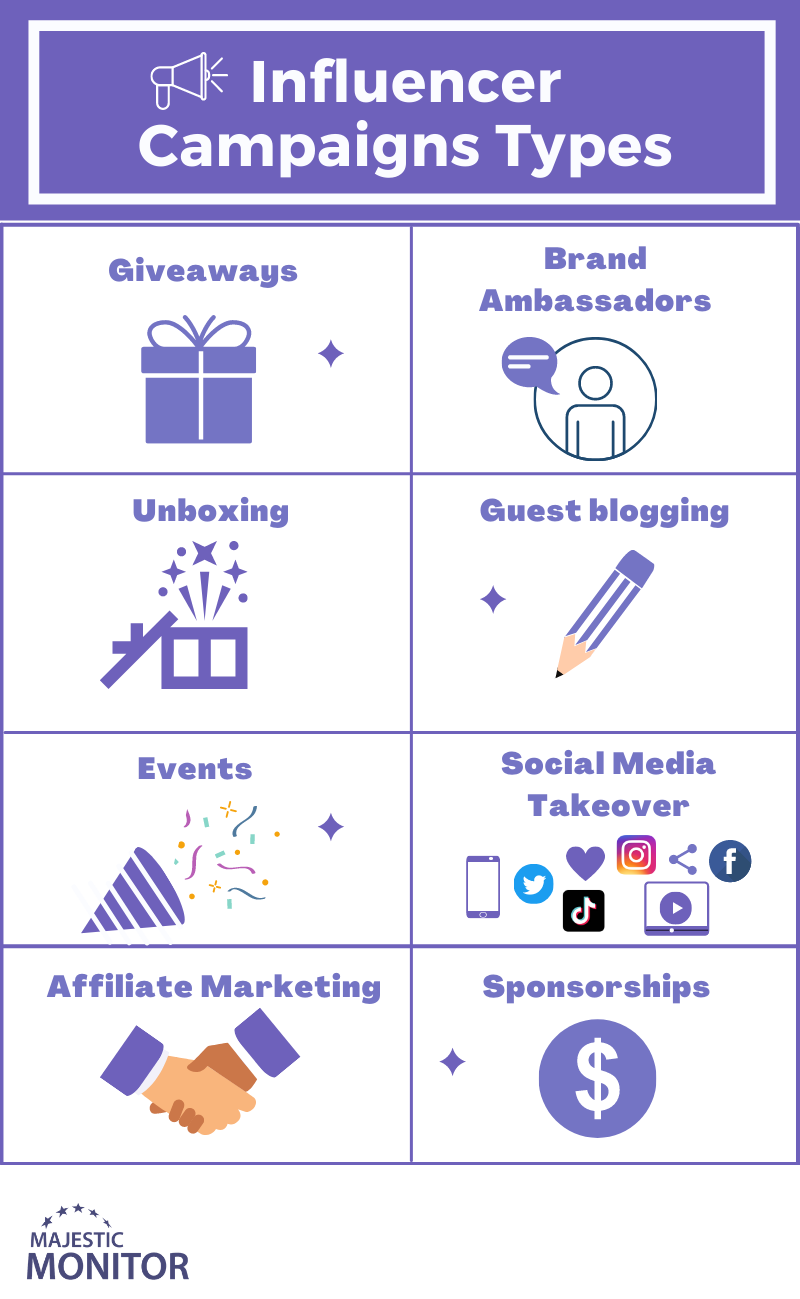 Giveaways: the influencer runs a contest where people compete to win the prize. It's a great way to market your product and drive engagement.
Brand Ambassadors: representatives of your brand who promote you over a contracted time.
Unboxing: sending your product to an influencer which they in return will record their thoughts and experience of it.
Guest Blogging: Writing on another site's blog where you promote your product, giving you more brand exposure and potentially attract new customers.
Events: inviting an influencer to an event can spike your number of attendees overall, and increase brand awareness. It can create buzz by people sharing posts and making it viral with hashtags.
Social media takeovers: allowing an influencer to take over your social media account for a certain period, usually a day. There's a range of things they can do such as live Q&As about your brand and product or post BTS content on Instagram stories.
Affiliate Marketing: Through unique links, you can track how many sales are generated from the influencer which you then pay a commission to.
Sponsorships: when an influencer posts content to advertise your product. This could be either a quick demo of your brand integrated into one of their Youtube videos or posting a picture of your product along with a discount code.
You need to see which one performs best on a platform and your audience interacts with the most. Some of them are a no-brainer like social media takeovers will work well on Instagram and Facebook but maybe not as much on Youtube.
Another thing to consider is how long you want to maintain the relationship with the influencer. Do you want it to last short-term like sponsorships or long-term like brand ambassadors?
Some of these campaigns can be risky. For instance, to follow the FTC requirements for transparency, sponsorships must be made explicitly clear through hashtags like #ad and #paid. This disclosure can cause your audience to feel the influencer is being biased or disingenuous which could reduce your credibility.
It ultimately depends on you to balance the risks and benefits and choose how many campaigns you require that align with your goals and resonate with your audience.
How to Choose the Right Influencer for your audience and Industry?
Now, you want to pick an influencer best tailored to your niche and audience.
Having the 3Rs in mind when seeking them out can help.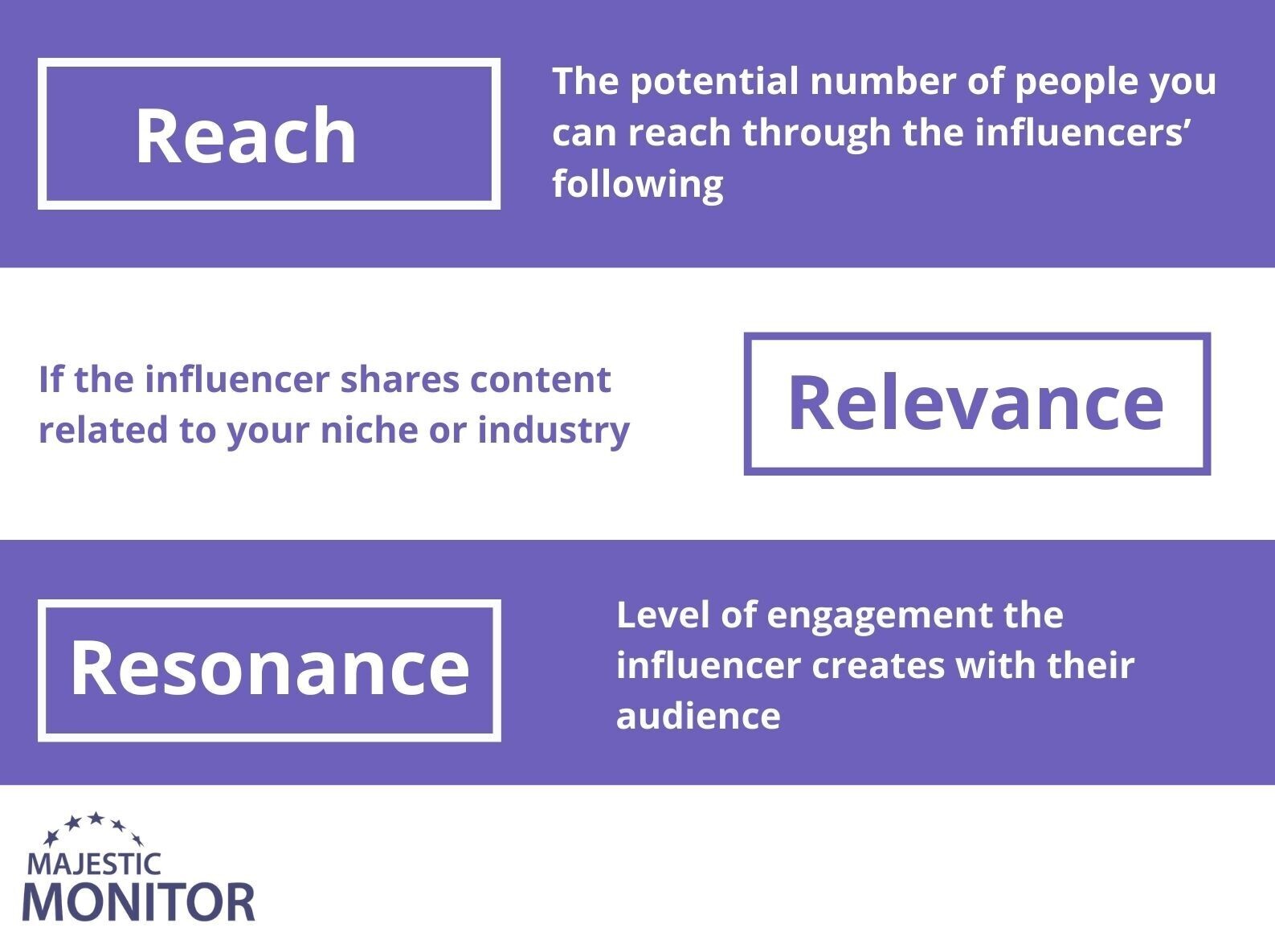 But there's a problem, how are you sure if what you're seeing is even true? With apps that offer fake followers, you can easily slip into a scam which is the last thing you'd want to end up in.
So, do yourself a favour and take advantage of the tools out there to save you time and money.
Majestic Monitor offers a wide range of tools for you to check an influencer's authenticity along with tons of other exciting features to help you find the perfect match. We are currently showing Twitter handles and Site Authors and measure their influence outside of Twitter.
Profile Lookup
Enter an influencer's Twitter handle where we perform a thorough scan of their profile, and you'll receive data of their:
Trust Flow score: gives a value of the quality of their links. The higher the score, the more reliable and stronger the links are—a great way to check an account's authenticity.
Linked websites: the number of websites that have linked to their tweets. Here you can see how much visibility they received outside of Twitter giving you a good idea of their external influence.
Linked updates: number of statuses that we have found which are linked to on the web. This shows you their impact on Twitter, with a higher number being a wider reach while a lower number being not as much.
Sentiment score: how positively an account is spoken about by their linked sites. A clever way to check if the influencer has a good reputation to the public as they claim to or not. Saving you from investing in potentially problematic influencers.
Top statuses: Tweets that have received the highest number of links. With this feature, you'll be able to assess how much reach and influence they have.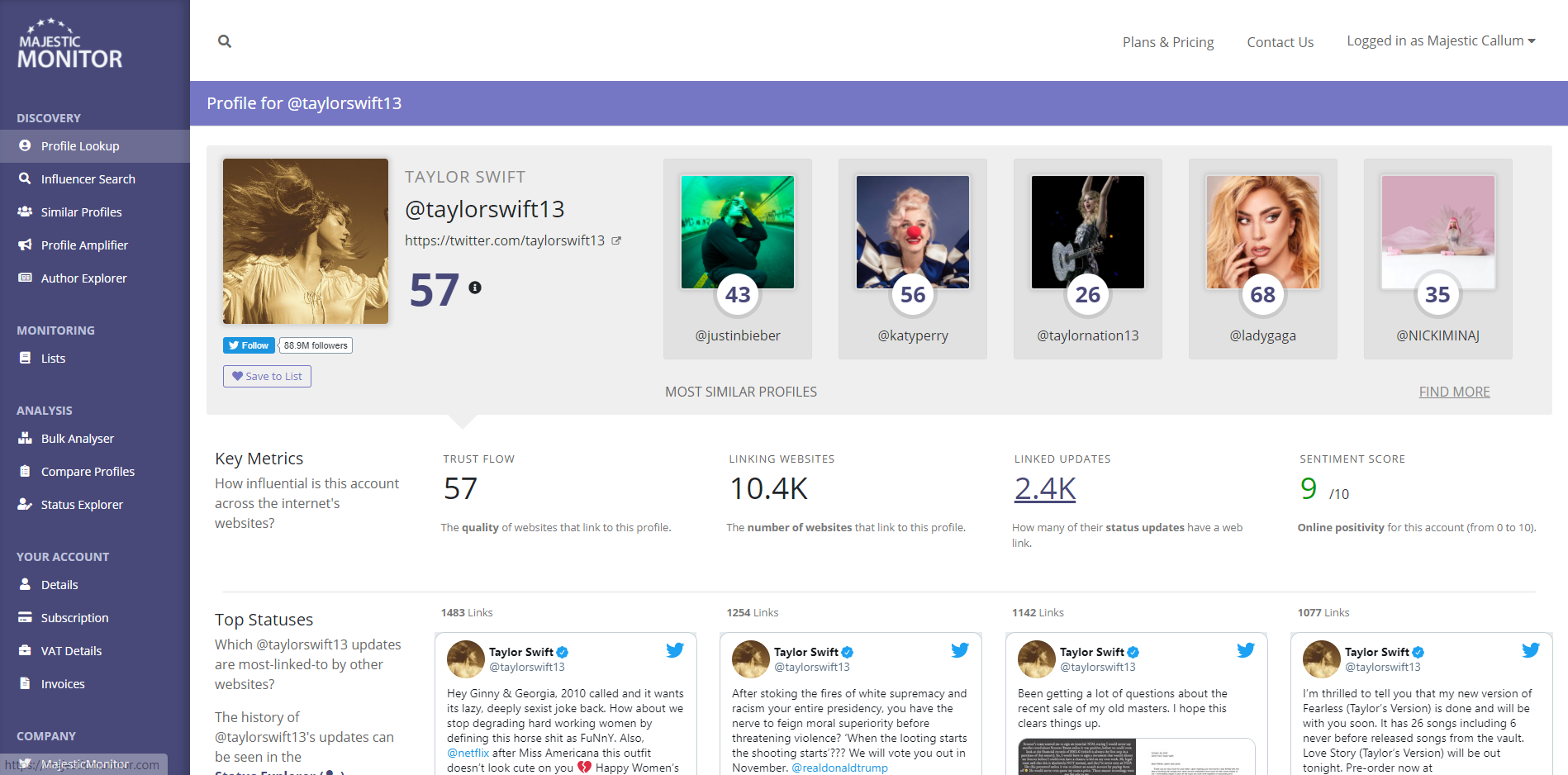 Profile lookup also ranks the top sites or pages that have referenced their handle or themselves are the authors of and the topmost relevant websites to their profile. These are two more alternative ways apart from Linked Updates where you can dive deeper to measure their influence on platforms other than Twitter.
We form the top keywords linked to their profile with the help of our 40 trillion web links. What this does is help you see if an influencer is suitable to represent your brand by scanning through their set of Top Words and checking if they're a good fit.
Looking at their set of words can give you a clue of what type of an influencer they are. If we take Taylor Swift, for example, some of her Top Words include, "singer", "fan" and "tour" which gives you a good clue that she's likely a mega or macro influencer and has a good amount of reach due to her profession and popularity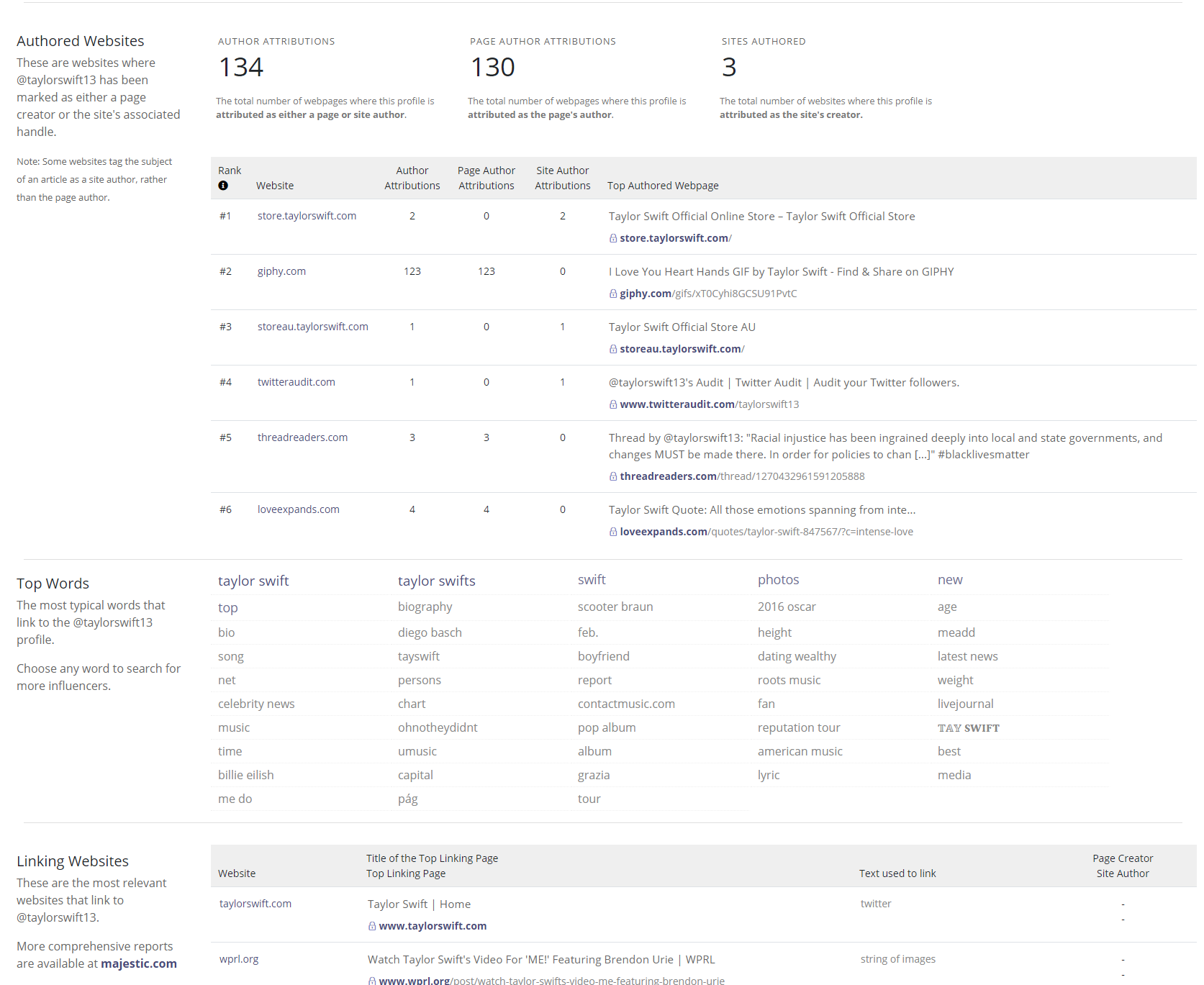 At the bottom, you can see a chart of their sentiment and Trust Flow scores, along with the topics they relate to most. Here, you can see for any correlation between the topics and the field your brand specialises in.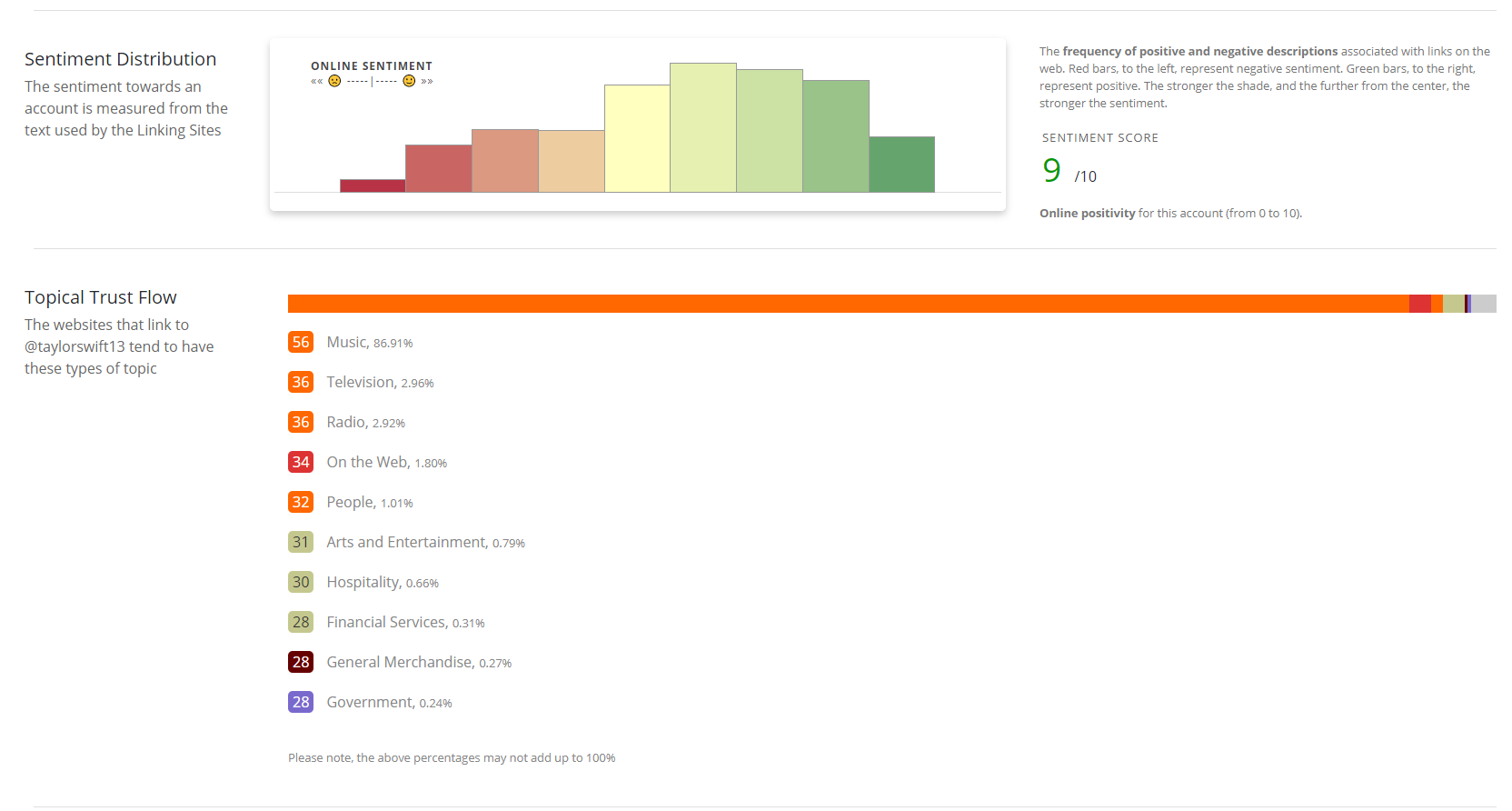 Influencer Search
Enter a topic or niche keyword, and it'll generate accounts that associate with it in terms of similar words or phrases. This is great if you're looking for influencers, who are experts in the field like a tech or skincare specialist. You can filter either by relevance or name match.
In this example, the results for 'vegan food' are bloggers, restaurants, and festivals related to veganism. They range from macro influencers like @BootstrapCook to micro and nano influencers like @HealthyVoyager and @cheaplazyvegan, giving you a variety of influencers to compare and choose from.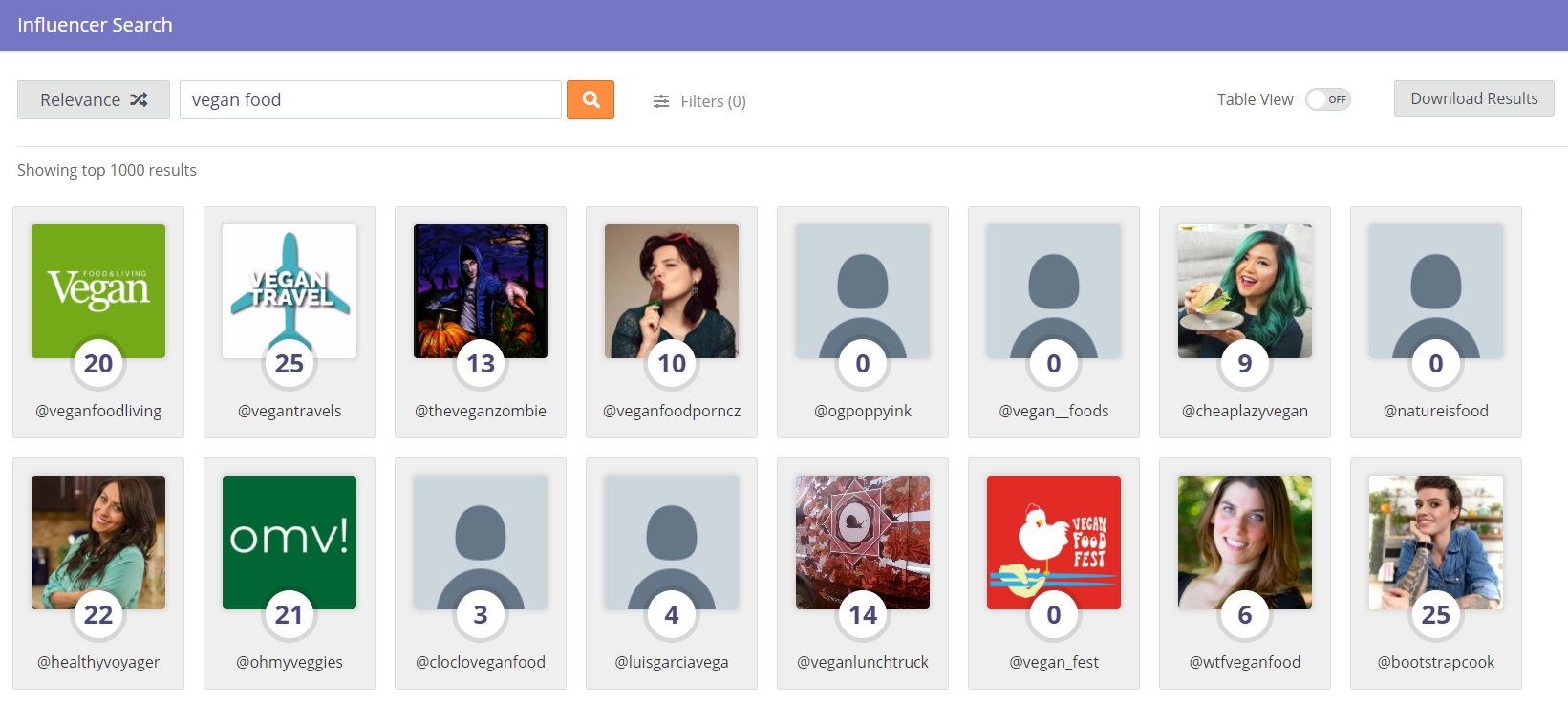 Prefer to see it all in a table format? Then switch to table view where you can access more of their metrics and save any account for later by selecting them. You can also find similar influencers by selecting the ones you want to then 'Amplify'.
Similar Profiles
See up to 1000 similar accounts to the one you're analysing. We find this by looking at which influencers get linked near other influencers on web pages. That way, you can discover gems who you might have initially missed from hunting manually.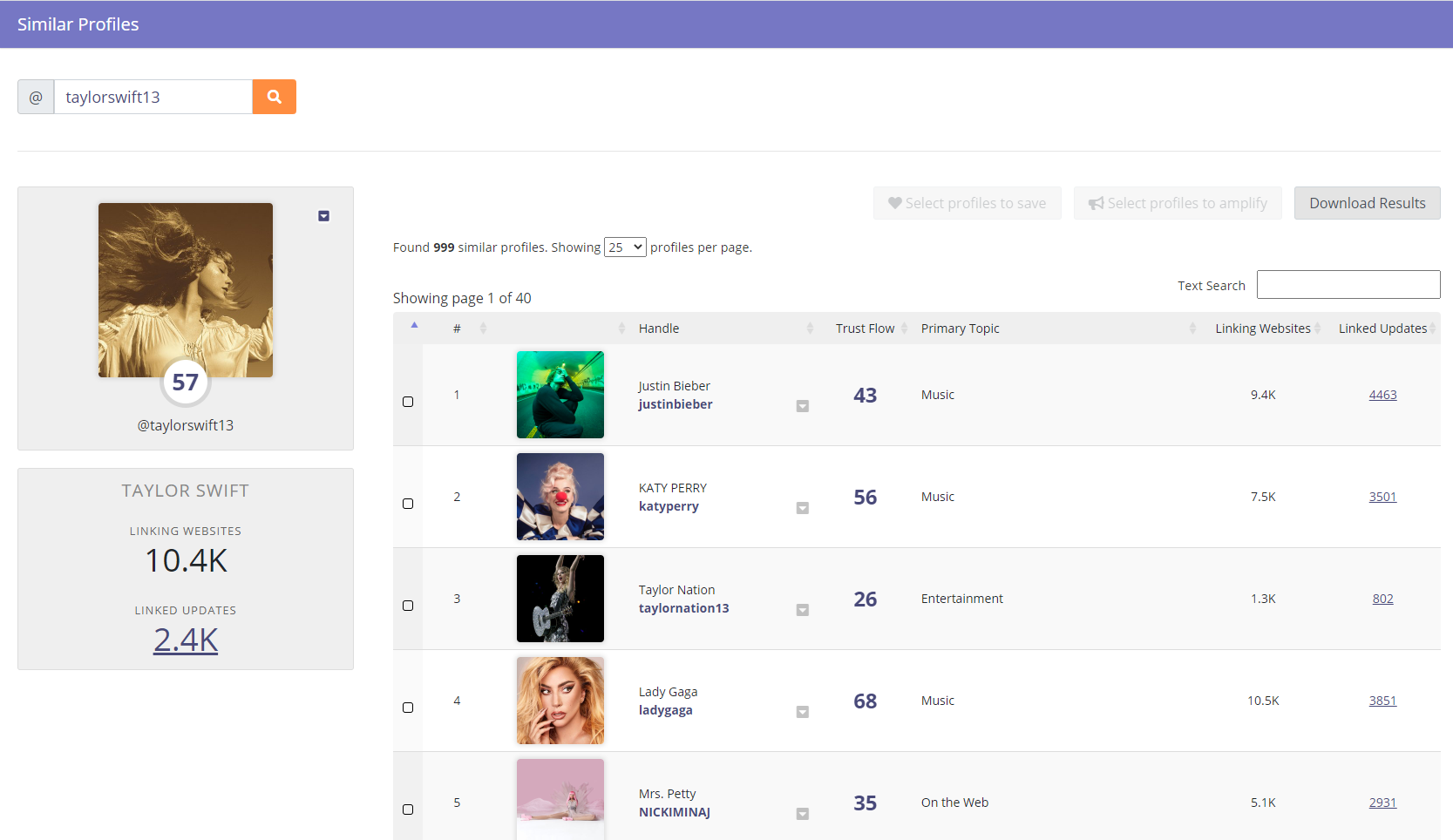 Author Explorer
Enter any website, and you'll be able to view all the authors who've partaken in any of the site's published blog posts.
With this tool, you can find influencers who resonate well with your audience to drive engagement.
It's especially helpful if you've come across a site that fits your brand voice, and you want the author to act as an advocate on social media.
And instead of going through the struggle of clicking each blog to find authors, you can see them all in one place along with their Twitter profiles for easy access.
Click on any of the author's handles that interests you, and Majestic Monitor will instantly perform Profile Lookup on their account too.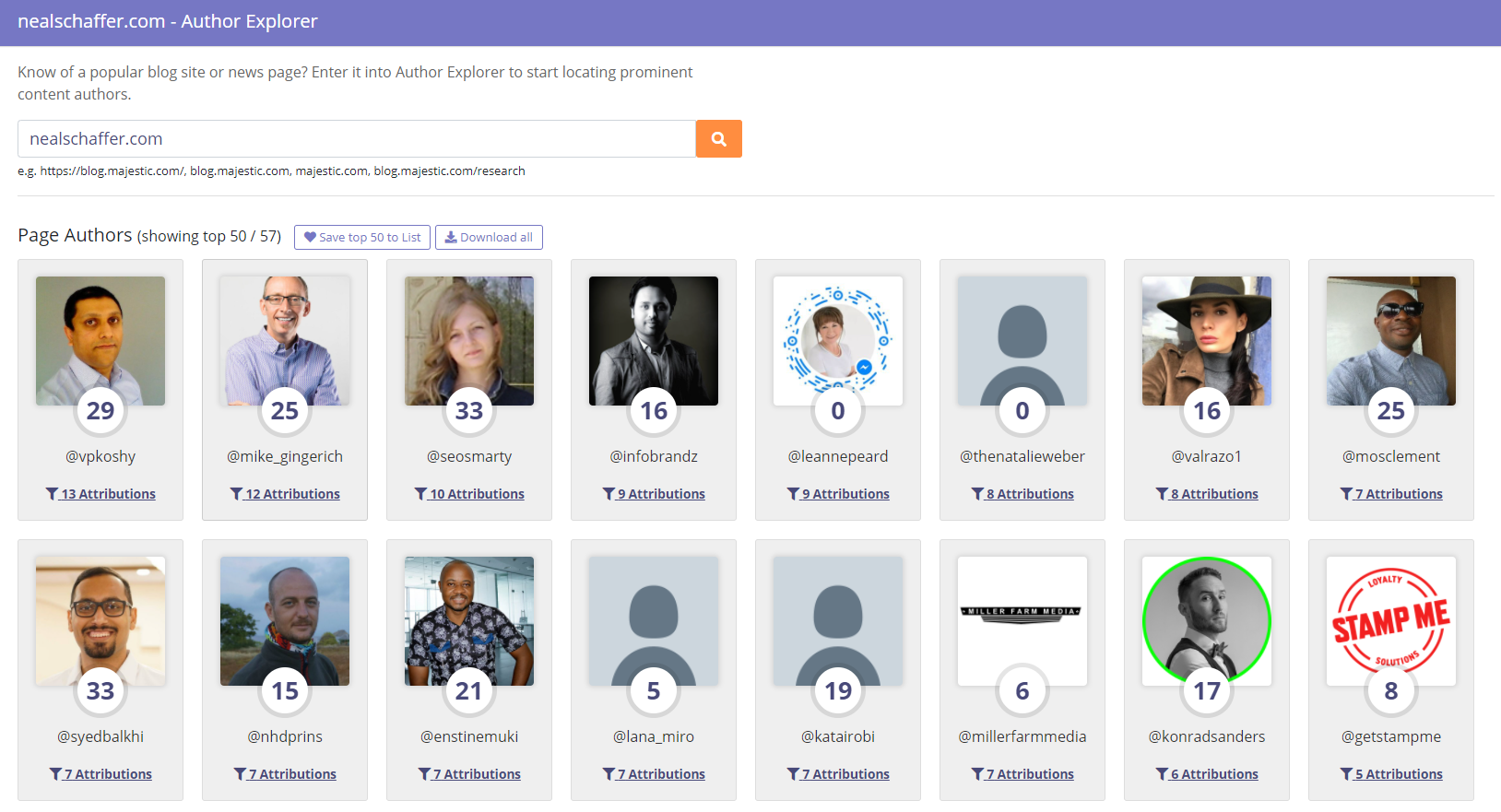 Lists
Create lists to stay organised. You can collect a list of influencers to compare the different web statistics between them.
Simply click on the dropdown icon on the top corner of any profile, then click on the 'save to list' option so that it's added to your chosen list category.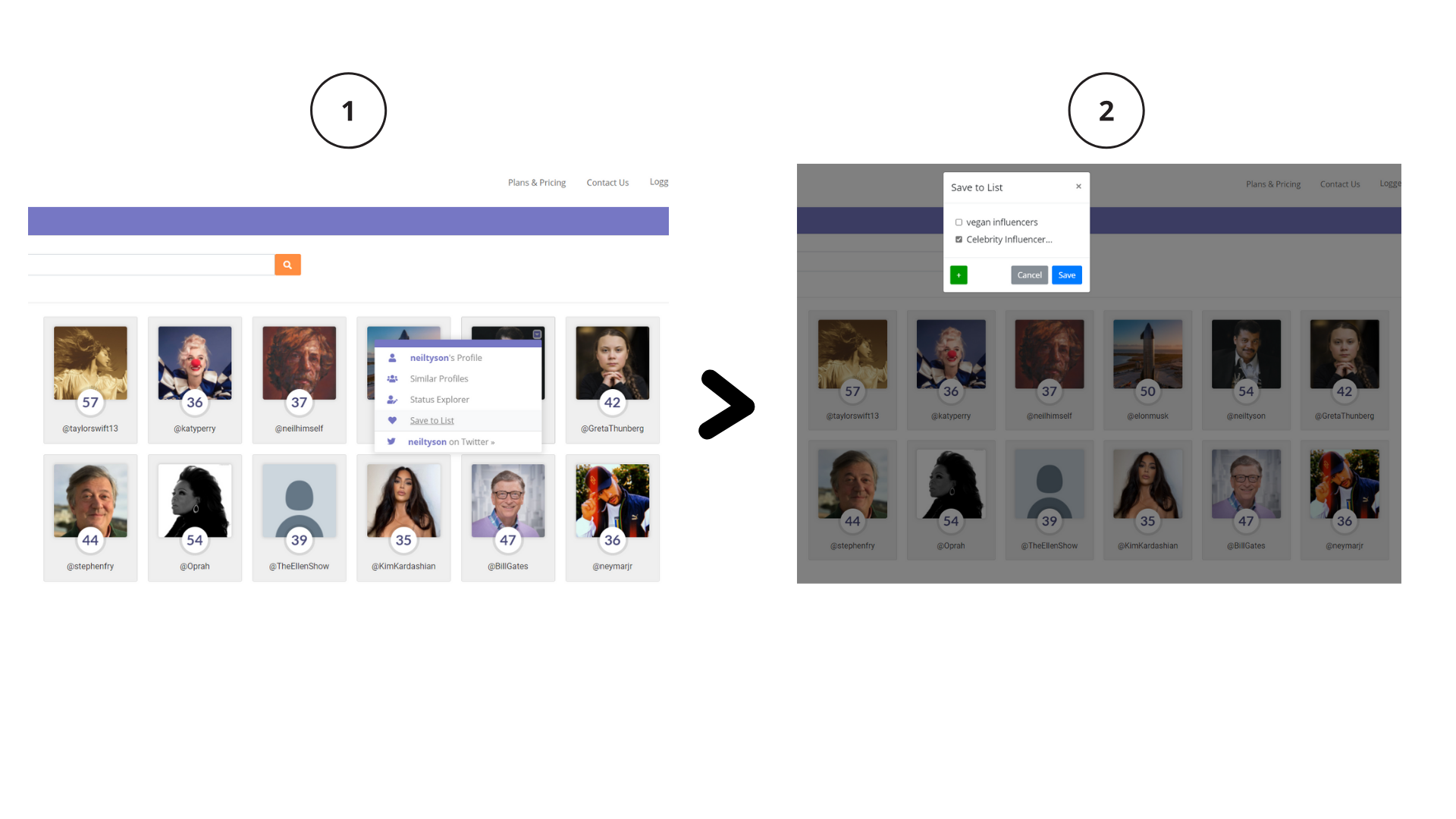 If you want to view the rest of our tools click here.
How to approach an Influencer
When reaching out to influencers, communicate in a polite and professional tone for them to take you seriously. It's always good to do some research about them as they'll be more willing to partner up with someone who has put in time and effort.
Don't expect influencers to be familiar with your brand.
Start by introducing the brand and what you do. Keep this short and communicate the value it provides with honesty and integrity. The last thing you'd want here is any ambiguity.
Tracking your progress
To track your progress, you need to measure your KPIs and ROI. The KPI metrics you need to focus on links back to your goals.
If you aim to increase engagement on your page, then likes, comments and shares are your KPIs, whereas if you want conversions, then lead conversion rates would be your KPIs.
Linqia carried out a study and found engagement at 90% to be the most popular metric people use to oversee their marketing campaigns' success, followed by clicks at 59% and impressions at 55%. Trailing behind, reach and product sales are moderately popular, whilst the least measured metric being audience alignment at 29%.
Track sales conversions and referral traffic with Google Analytics. You can also create marketing source codes to give you a clear overview of your marketing statistics and observe which influencer and social platforms drive the most traffic.
You can create a custom landing page to personalise your message to your audience and analyse the traffic and conversions on there instead of your homepage. It also reduces your CPC expenses as well.
Having influencers as representatives for your brand is a great way to get your product or brand twice as fast out there. You should now have a good idea of where to begin and remember the tools are out there to help you, so take advantage of them to save you time and money.
Try Majestic Monitor out now. You can always experiment with our free profile we provide daily or if you have any questions then feel free to Contact Us.