5 Twitter trends to lookout for in 2021
Tuesday 18th May 2021: It's tricky being ahead of your competitors. One way to be on top is by keeping in check with the current social media trends.
But what if you go one step ahead further and be prepared for the trends before they skyrocket on social media.
This post highlights five key trends to take place this year. So you can get a headstart and stay on top of your competitors.
Keep in mind these are, of course, trends we predict from the insights we've gathered.
1. Video content
Video content is predicted to grow even further. EMarketer has estimated that the ranks of US digital viewers will increase from 221.8 million to 239.2 million between 2017 and 2021. We've also witnessed video content trending on Twitter over the years, from brands broadcasting new product releases to recent cases of governments raising awareness for people to stay at home (due to Covid-19).
It's been in high demand by app users as well.
According to Hubspot, 54% of consumers prefer to see video content from a brand or business they support.
There's more.
Up to 56% of video posts receive more engagement than other post types (SocialPilot, 2020). Video Ads is also a great way to get your content in front of your audience.
A lot of people surf through Twitter in public, so remember to make it mobile-friendly by adding captions or make it suitable for off-sound viewing with the help of four of these tips by Twitter:
Include clear, visual branding
Focus on clear, sharp visuals in your video
Emphasise motion and movement
Get creative with captions to inspire curiosity
Other advice Twitter has given us is to keep your video tweet copy short as it generates a 13% higher recall of your message and brand.
2. Rise of micro and nano influencer partnerships
The pandemic has proved to us how effective influencers are who aren't necessarily celebrities. They come across as relatable, making people value their opinion more.
And if by now you're not reaping the benefits of having an influencer in your marketing strategy, then you're missing out.
40% of Twitter users get encouraged to make a purchase via an influencer's tweet (SocialPilot, 2020), 71% of marketers intend to increase their influencer marketing budget this year (Linquia, 2021).
This comes as no surprise as businesses generate $6.50 in revenue for each $1 invested in influencer marketing, according to a poll carried out by Tomoson's.
In particular, micro and nano influencers are highly likely to be more in demand. Many brands favour them over mega or macro influencers— who possess a greater following.
Why is this?
The majority of them come across as more authentic and reliable. They also have a dedicated following to a specific niche that drives a higher engagement and is the most cost-effective. And more brands are coming to realise their value.
When pursuing influencers, you don't want to stumble into cases of influencer fraud either so use tools that specialise in finding real influencers.
Like Majestic Monitor. We're dedicated to finding the most relevant influencers that best tailor to your brand and audience. Here's a sneak-peak of some of our features:
Profile Lookup - where we measure an influencer's authenticity, reach and influence outside of Twitter
Influencer search - enter a keyword or topic, and we generate accounts most relevant to them.
Similar profiles - see up to 1000 similar accounts of the influencer you're analysing.
3. User-generated content (UGC)
There's no denying that social media has accelerated user presence due to Covid-19, with many of us spending time at home and surfing through our phones. In fact, Statistica found there are now 4.66 billion people who use social media. That's more than half the world's population!
So it's a great time to use this opportunity to craft a UGC campaign.
A UGC essentially is content produced by your users rather than you. This can range from images to videos or hashtags. It's a great way to display social proof of your product or service as it's being spoken through the customers' lens, hence no bias.
Not only that, but it's a great way for you to connect and drive engagement with your audience whilst greeting new ones along the way.
And most of all, it's free! So, you don't have to spend a penny from your pocket.
It's all in the numbers as well.
Adweek's insights found UGC results in 29% higher web conversions than campaigns or websites without it, and Offerpop found 85% of consumers find visual UGC more influential than brand photos or videos. So give your audience what they desire to see great results in return.
A big trend we've noticed lately is remixing UGC content. It's where people experiment with their ideas by using something which already exists like a song then revamping it into something new like a video reel.
Whilst the concept did blow up initially on TikTok, it took off onto other platforms such as Instagram and Twitter as well.
One example is Coke's 'share a coke' campaign, where they replaced their brand name with the most common names of people. The response was outstanding, with thousands of people sharing their personalised bottle across social media, making it a huge success.
Ring is another brand where they share customer content to prove how effective their product is. It includes videos of potential robberies being prevented by alerts being sent to the user's phone whilst also capturing sweet moments to look back at later.
If you've now been inspired to start your own UGC campaign, then here's five steps from Sprout Social to help you kickstart your campaign:
Step 1: Choose the Social Networks Most Effective to Your Campaign
Step 2: Set Specific User Generated Content Goals
Step 3: Tell Your Audience What Content You Want
Step 4: Focus on the Community Aspect & Collaborate
Step 5: Analyze & Measure Your User-Generated Content Efforts
4. Interacting with audience
Twitter polls have been an effective tool to gather intel on your audiences problems, preferences and general feedback. Having your customers participate makes them feel acknowledged and builds a more intimate relationship.
Brands have also become more vocal when facing any backlash. Recently a retail store, Marks & Spencer (M&S) took legal action against supermarket chain Aldi's Cuthbert cake for plagiarism against their own Colin the Caterpillar cake—loved by global superstar David Beckham.
However, Aldi took the feud on Twitter by setting a campaign of #freecuthbert, where they not-so-subtly mocked M&S's claims.
Packaging update. #FreeCuthbert pic.twitter.com/XDSnhpvjmj

— Aldi Stores UK (@AldiUK) April 16, 2021
We also noticed a surge of those tweets on our data—of the number of links it gained. Similarly, you can inspect a Twitter account's tweet history where you can spot any spikes, then click them to find their source and view how much attention it's gained.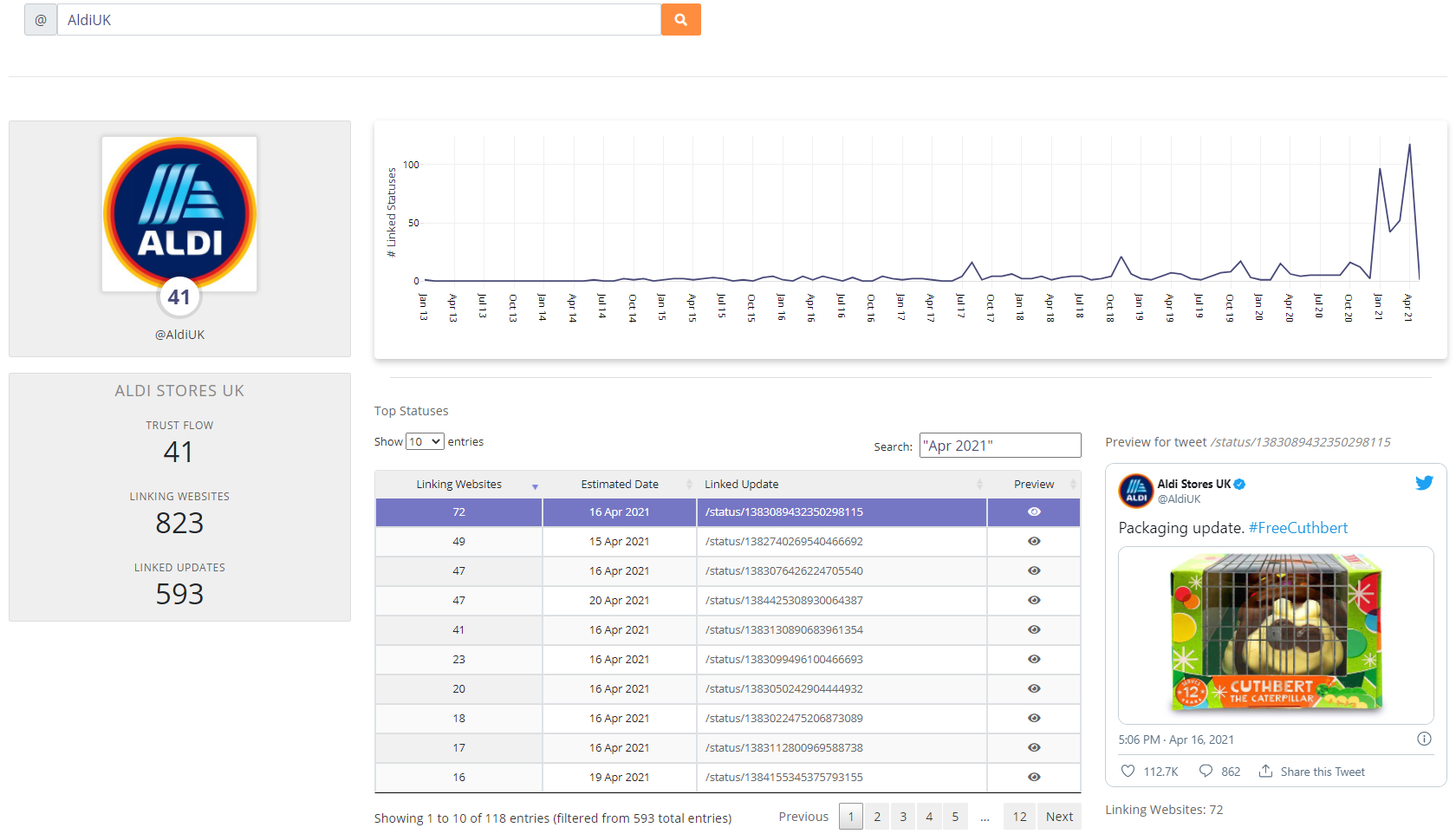 Shoppers loved the drama, including many sympathising with Aldi, with people also applauding their social media teams effort.
Aldi showed their support for the cake replicas of fellow supermarket chains proving their innocence further of not being the only ones.
Cecil, Wiggles, Curly, Clyde. We got you. @Waitrose @Sainsburys @Tesco @Asda #FreeCuthbert

— Aldi Stores UK (@AldiUK) April 16, 2021
Supermarket chain Morrisons felt a bit heartbroken being left out.
When you find out your friends have a group chat without you 💔 #whataboutMorris

— Morrisons (@Morrisons) April 16, 2021
They also received a massive response from earned media and people going on their own little journey of taste testing the cakes.
As of now, we're yet to see if Aldi does indeed win the battle of freeing Cuthbert.
5. Brand communities
Twitter has been a place where people have formed their own little and not-so-little communities like book and news twitter.
Brands also took part by creating their own circles.
The Xbox ambassadors campaign invites inspiring influencers to create a safe and healthy environment to network and help each other with gaming. It consists mainly of micro and nano influencers determined to impact their community e.g. @Palmettobling spreads awareness to fellow parents and schools about online safety for kids.
HelloFresh is another example where they gathered 15 UK influencers led by Davina McCall to trial HelloFresh for three weeks. During that time, influencers documented their experience on various social platforms encouraging others to join in on the fun with the #RefreshWithHelloFresh hashtag. This led to a community of people sharing cooking advice and aesthetically pleasing pictures of their meals.
These are just two examples of the many ways how you can build a community loyal to you.
Hopefully, by now you should have some idea of the trends that you can utilise and take advantage of. Using these trends will not only help you get ahead in the game but prepare you for what's to come.